Build Your Messaging Model for a Repeatable Messaging Process
In my previous post, we mapped out our persona's frustrations, wants, fears & aspirations. Today we are going to build a messaging model, this step anchors our messaging with something an individual person(s) cares about and helps our team with a consistent and repeatable messaging strategy.  When I say consistent and repeatable I mean McDonald's restaurant repeatable and consistent.
To expand our persona's frustrations, wants, fears & aspirations into actionable messaging we need to connect them a number of ways including:
Loss aversion: the desire to reduce pain and avoid or minimize loss. e.g you would more than likely focus on NOT losing $100 vs making $100.
Gain: messaging to someone's motivation for gains
Logical argument: messaging that appeals to the rational decision-maker and a slower approach to making a decision. Social proof, recommendations, facts, statistics are probably already an important component of your content.
If you combine emotion with logical argument messaging then you will speak to your persona's decision-making process.
You now have a repeatable process to craft your message.
Take a piece of paper and a pen and we are going to begin with one of the frustrations, and the corresponding want to generate your Gain message.  A good starting point is as follows:
With <your product or service>, you'll achieve <Want> so you can focus on <Aspiration>.
You could also add in product/service capabilities and benefits tied to that Want or Aspiration.
Here's some copy from Zendesk's homepage with Gain messaging:
Zendesk's (helpdesk) makes it customer conversations seamless across all channels, so you can keep your customers happy and satisfied.
Next, Loss aversion messaging
Avoid < frustration > with < your product / service > and accomplish < want >
Here's an example from Intercom that features loss aversion messaging:
Avoid rigid, asynchronous, impersonal connections over email only by choosing Intercom and quickly forming personal relationships with anyone.
The want here is forming personal relationships with anyone and to do that we're going to avoid rigid, impersonal connections with your existing email-only process.
Finally, appeal to the rational brain and back up your messaging with the logical argument. For example:
X% of < title and role of persona> < achieve want > or < avoid frustration > by choosing < your product / service >
An example is from Pipedrive's homepage: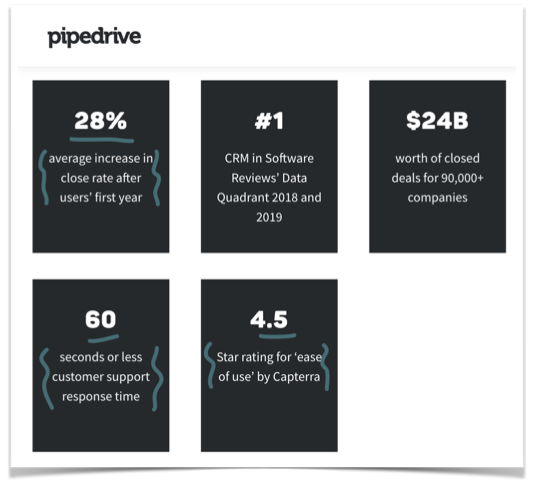 You can pick out the statistics ehere they are tapping into the frustrations of their ideal customer profile and target persona.
VPs of Sales that chose Pipedrive gained an average 28% increase in close rates in their first year.
Tired of the lack of support from other CRM vendors? Pipedrive has a 60 second or less customer support response time and is ranked #1 in Software Review's 2018 and 2019 Quadrants.
Avoiding frustrations, gaining the persona's wants and logical stats all rolled into one to make the argument. This is gold.
Now it's your turn to come up with your messaging.
P.S. Whenever you're ready… here are 4 ways I can help you and your coaching business right now: